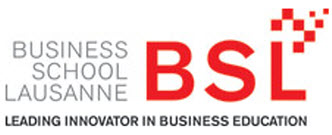 MBA Sustainable Business #123# LAUSANNE
Diploma in Sustainable Business

Business School Lausanne
The Diploma in Sustainable Business is a joint program of Business School Lausanne and the Institute for Economy and the Environment at the University of St. Gallen (IWÖ-HSG), and is endorsed by the World Business Council for Sustainable Development (WBCSD).

The Diploma in Sustainable Business focusses on how companies can adapt their strategy and operations to embrace sustainability challenges and to manage the risks and opportunities in a responsible way. This innovative program provides participants a unique opportunity to reflect on the major challenges that our planet, society and businesses will be facing in the coming decades.

The program is driven by two leading management institutes, making for a dynamic and novel program. BSL is known for experiential learning, and St. Gallen contributes its best thought leaders in sustainability.

The Diploma in Sustainable Business is a 10-month program including a project focused on sustainability. It represents 13 two-day modules involving 30 hours of pre- and post-course work each and a 10-month real-life project of approximately 250 hours, replacing the traditional thesis.

Read more about the program experience.

A dual opportunity
Our program provides two unique possibilities. While offering you a learning platform it also provides your employer or external organizations the chance to have a sustainability project resolved.

Participants who have successfully completed the program are awarded a Diploma in Sustainable Business by BSL and the University of St. Gallen.

For the participants


Become a specialist for sustainability issues in business, public office or non-governmental organizations.
Create new opportunities for employment in existing or new businesses that embrace sustainability through innovative products or services.
Prepare you to work independently as a consultant or entrepreneur.
Integrate sustainability into your existing area of responsibility or into mainline functions such as product or project development, sourcing, operations, marketing or communications.
Become part of a community of sustainability change agents.
Directly apply your learning through the company projects. The course focuses on learning knowledge as opposed to teaching knowledge.
For the organizations
Understand how your business can become sustainable.
Obtain solutions for your company's own sustainability issues or challenges.
Benefit from the recommendations of an inter-disciplinary advisory team of reputed faculty.
Learn ways of training your employees to implement sustainability in to your business.