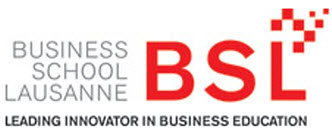 MBA Management Seminars #126# LAUSANNE
Management Seminars

Business School Lausanne
We provide executive training and development through our fully accredited MBA program. Our MBA modules are given as 3-day Management Seminars and provide a cost-effective way for professionals to strengthen their management and leadership skills.

The BSL Management Seminars integrate the latest management thinking and provide tools and techniques to enhance individual and team performance in all business areas.

We provide companies with the opportunity to take any seminar as a customized training designed to address specific needs and interests. Learn more about our corporate collaborations.

Practical and applied learning
BSL creates a highly effective learning environment where seminar participants interact with current MBA students and acquire knowledge and skills through practice. Our experiential learning approach includes group assignments and presentations, case studies, real-life simulations and guest speakers.

Upon completion of each seminar, participants walk away with practical knowledge and directly applicable skills that allow them to enhance their career development.

Delivered by seasoned business practitioners
All Management Seminars are delivered by seasoned business practitioners with an extensive track record of success in business in two or more countries. In line with the school's pragmatic approach, they have been carefully selected based on their abilities to combine real-life experience with training and development.

Read more about the BSL MBA faculty.

MBA quality
The Management Seminars are individual modules of our MBA program, delivering the same quality of in-depth learning. Each module is worth 3 MBA credits and is accumulative towards an eventual MBA degree.

When designing our MBA program, we took into consideration the input of 30 international CEOs and HR-directors, on the top 3 qualities of future leaders. As a result, each MBA module, given as a 3-day management seminar, combines essential soft and hard skills that shape you into a self-aware, responsible management professional and gives you the foundation to grow as a leader.

Read more about the BSL MBA program.

Interaction with MBA participants
With the added bonus of MBA quality, the Management Seminars also provide interaction and learning within a group of diverse (10+ nationalities) and experienced (average of 9 years' business experience) MBA participants.

This level of maturity, extensive management experience and diversity provides seminar participants with unique perspectives to problem solving during the training course. It also helps them expand their global network and build on business opportunities for collaborations.

Read more about the BSL MBA participants.

MBA credits
Upon completion of each seminar, participants receive a certificate worth 3 ECTS credits, which may be applied towards an MBA degree.